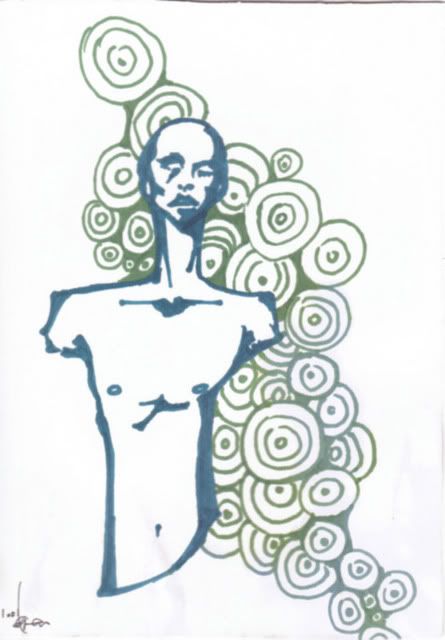 This something I drew for Dan, and he was kind enough to scan it and send it back to me. I enjoy drawing from time to time to pass time, time after time, parsley, sage, rosemary, and thyme...even though I am by no means an artist.
On another note, I killed a deer on Saturday.
Now, I have friends who hunt. They dress in full camo and sit for hours in muted patience only to be thwarted by a change of wind, or a snapping of a twig, and the would be prey gracefully bounds off never to be seen again. That is if the hunters were lucky to see a deer at all.
I, on the other hand, unwillingly used a different technique; I opted for a loud, bright, and fast, weapon that apparently lures the hapless animal directly into its oncoming path. I can not comprehend how such a wily creature, one that can easily evade my friends, will with no warning jump in front of a moving car. And, nonetheless, a car that was alone on the road, no one for miles in front or behind. But at the exact moment that we pass it the deer bounds to its doom.
The beast had its revenge however--it rendered my car un-drivable. I realized this as all the engine fluids spilled out on the road and steam was spewing forth like an angry volcano blocking all from view. I pulled to the shoulder and there we sat, dear meat and fur in the grill, freezing cold and shaking from the recent adrenal workout we just went through as we waited for a highway patrol man and tow truck driver Woodie to come to our rescue.
It was a very surreal evening.
So, if we can learn nothing else from these dealings, we can see that I have the worst luck known to man, and that killing deer doesn't need to be as difficult as one might think. Just think: loud, fast, bright, and dent-proof…but you don't have to take my word for it! Ba Dum Dum!